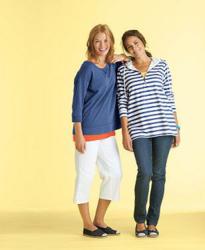 New York, NY (PRWEB) January 19, 2012
Woman Within®, a plus size women's fashion brand in the portfolio of Redcats USA's OneStopPlus Group, announced today the launch of WW Active, a product line that empowers plus size women to live healthy and active lifestyles.
WW Active was created to provide plus size women specially designed apparel, accessories, exercise and home equipment for activities such as: cycling, workouts at the gym, spa treatments, swimming, walking, running, yoga and pilates.
"A large segment of the 62 percent of U.S. women considered plus-size are living an active lifestyle, yet they have difficulty finding the right clothing to wear for exercising and participating in physical activities," said Neil Mulhall, Sr. Vice President/General Brand Manager for Woman Within®. "Our talented in-house design team developed WW Active based on decades of plus size expertise and a strong understanding of designing comfortable products for active women."
The new product line features top selling items including: tops, bottoms, tees, jackets, intimates, swimwear and outerwear in sizes ranging from M to 6X. The WW Active collection is designed to be worn as "everyday" active wear so women on-the-go can go straight from the gym to running errands without sacrificing fashion. WW Active also offers gym equipment and small appliances for the home (i.e. juicers, smoothie makers), providing a full lifestyle experience.
"Active inspired clothing is a key trend that serves today's dynamic woman. It allows her to be versatile and stylish throughout her different activities without having to constantly change outfits. This curated collection specifically designed for the plus-size woman offers the ease of movement, and the versatility of function, while looking great!" said Zahir Babvani, Vice President of Design, OneStopPlus Group.
To further promote the importance of good health, WW Active has created an online community for the active plus size woman – wwactivelife.com. This lifestyle blog shares tips on food, body wellness, beauty and a healthy outlook; it also encourages plus size women to interact with each other and share personal insights about how they are living a healthy and active lifestyle.
To place an order, go to WomanWithin.com or call 800-248-2000 anytime 24/7. Customers looking for extra savings can get 20% off on WW Active orders by using coupon code WWActive20 (expires 2/28/12 – 20% off ENTIRE order, excluding clearance). You can also find WW Active on the web's only plus size shopping mall at OneStopPlus.com.
Other websites in the OneStopPlus portfolio include: OneStopPlus.com, Roamans.com, JessicaLondon.com, fullbeauty.com, KingSizeDirect.com, BrylaneHome.com and BCOutlet.com.
For additional information, please visit: WomanWithin.com, or connect via Woman Within®'s Facebook and Twitter pages.
About Redcats USA
Redcats USA is a dynamic, web-driven home-shopping leader with numerous successful brands and specialized e-commerce sites in its portfolio: OneStopPlus.com®, AVENUE®, Woman Within®, Jessica London®, Roaman's®, fullbeauty.com, KingSize®, BrylaneHome®, Bargain Catalog Outlet – BCO®, The Sportsman's Guide® , Bargain Outfitters®, Boating Savings®, Work Wear Savings®, TGW.com – The Golf Warehouse®, Baseball Savings®, Softball Savings® and Soccer Savings®. Redcats USA offers a wide range of value and quality driven merchandise categories, including men's and women's plus-size apparel, home and lifestyle products, and sporting goods/outdoor gear. Redcats USA is a Redcats company.
About Redcats
Redcats is a leading worldwide online retailer for fashion and home furnishings. The group gathers 17 European and US based brands in 31 countries: Avenue®, Woman Within®, Jessica London®, Roaman's®, KingSize®, BrylaneHome®, OneStopPlus.com, The Sportsman's Guide®, The Golf Warehouse®, Ellos, La Redoute, Vertbaudet, Cyrillus, Somewhere, Daxon, Stella McCartney Kids and Castaluna. In 2010, Redcats generated 3.436 billion euros of sales including 54% on Internet and employs over 14,000 associates. Redcats distribution network combines more than 70 e-commerce sites, nearly 600 stores and around 30 catalogues for 26 million active customers. Redcats is a PPR Company. For any further information: http://www.redcats.com
Contact Information
Karen Davis
Corporate PR & Communications
Redcats USA
Karen.davis(at)redcatsusa(dot)com
212-502-9315
###