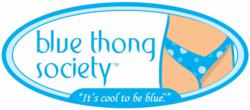 San Diego, CA (PRWEB) July 25, 2011
The BTS is proud to announce the ?HealthyWomen website ? HealthyWomen.org ? was named to the prestigious list of ForbesWoman?s Top 100 Websites for Women list for the second consecutive year. The selection was based on criteria for informative and compelling content and user interface, engaged communities and, of course, a female focus that's kept fresh by dedicated editors, writers and designers. ForbesWoman cites, additionally, that intelligence is a plus and that fun adds bonus points to the selection.?
ForbesWoman describes HealthyWomen.org as, "A go-to information source for women on all things health, with hard medical data and breezy lifestyle articles."

?We are thrilled to be affiliated with HealthyWomen (HW) as they have been a leading independent health information resource for women for more than 20 years?, says Mary Jo Wallo, Blue Thong Society founder, ?HW is a valued strategic partner of the Blue Thong Society.?

Ms. Wallo continues, ?We strongly support women health objectives and community service through our charitable GoodWorks? program. Every BTS Chapter chooses a charity to support. As an example, the Ventura Blue Thong Sisters in Ventura, CA. are supporting the Marines of the 3/5 Division and the National Search Dog Foundation. Our Blue Belles chapter in Mandeville, LA, is donating items for sale in support of St. Francis Animal Sanctuary, and the Carson Valley Divas of Carson City, NV, are aiding the Advocates to End Domestic Violence in Carson City. ?

The GoodWorks? goals are serious and BTS Chapters deliver what they commit to, but they are also committed to enjoying themselves and building friendships. ?We work hard, but we have a lot of fun too!? said Ms. Wallo. ?Our organization is about building a community of women through a ?sisterhood? of strong relationships. And our sponsors and strategic partners work in concert with us to bring health resources, community support and education to those in need."
Ms. Wallo adds, ?Our national conference for 2012 is a cruise to Cozumel out of New Orleans. So bring a friend and join us for ?Thongs on the Bayou? 2012 Annual Conference*. You?ll have great time, make new friends, and help us make a difference in the world.?
About Blue Thong Society (BTS)

Since its inception in 2006, the BTS (http://www.bluethongsociety.com & http://www.facebook.com/itscooltobeblue ) has grown its unique international women?s philanthropic organization to 300 chapters and 5,000+ women. These modern, fun, confident, professional and philanthropic women – connect socially, but with purpose and intent to make the world a better place. Chapters commit to a GoodWorks? program twice a year and pledge that commitment to the BTS board and membership. Membership is by invitation only.
*NOTE: Reserve your space for The BTS 2012 Annual Conference ? fully refundable, no obligation ? visit our website!
###